Everyone has the perfect Caraway color! Here's how to choose yours, and what your guests can learn about you with just one look at your brand new set.
In an age where aesthetics are everything and branding is king, the urge to find your own personal style can be intense. From Instagram inspo to the fashion on your FYP, it's often overwhelming to pin down what you actually aesthetically connect with. Whether you've just begun your design journey or you're on your way to building your own lifestyle empire, it never hurts to do your research on the largest of purchases, like a new car or an updated wardrobe, down to the bare essentials, like welcome mats and cookware.
As you decide whether you're a summer or a winter, a Carrie or a Charlotte, a minimalist or a more-is-more kind of designer, here's a handy guide to breaking down what color Caraway cookware you should settle on as you put the finish touches on your vibe.
Cream
You're classic. You long for the days where a dress code was outlined and a menu was simple. You love everything vintage, from the record player in your living room to the bronze-rimmed rocks glasses on your bar cart. When you have your friends or your co-workers or your in-laws over for dinner, you want the bœuf bourgignon (Julia Child's, naturally) you're serving to be the star of the evening- but you won't blame anyone for gushing over the clean, cream Dutch Oven it's being presented in.
Navy You're a traditionalist and you're grounded. You're logical and loyal. You're the level-headed one amongst your friends, and are more likely to dip into your savings for something practical, long-lasting, and eco-friendly (like a Caraway set) than splurge on a new toy or a quick experience. When you're making dinner, you opt for fewer pots and more staple ingredients, but regardless of what you're cooking, you believe food is at its absolute best when it's shared.
Gray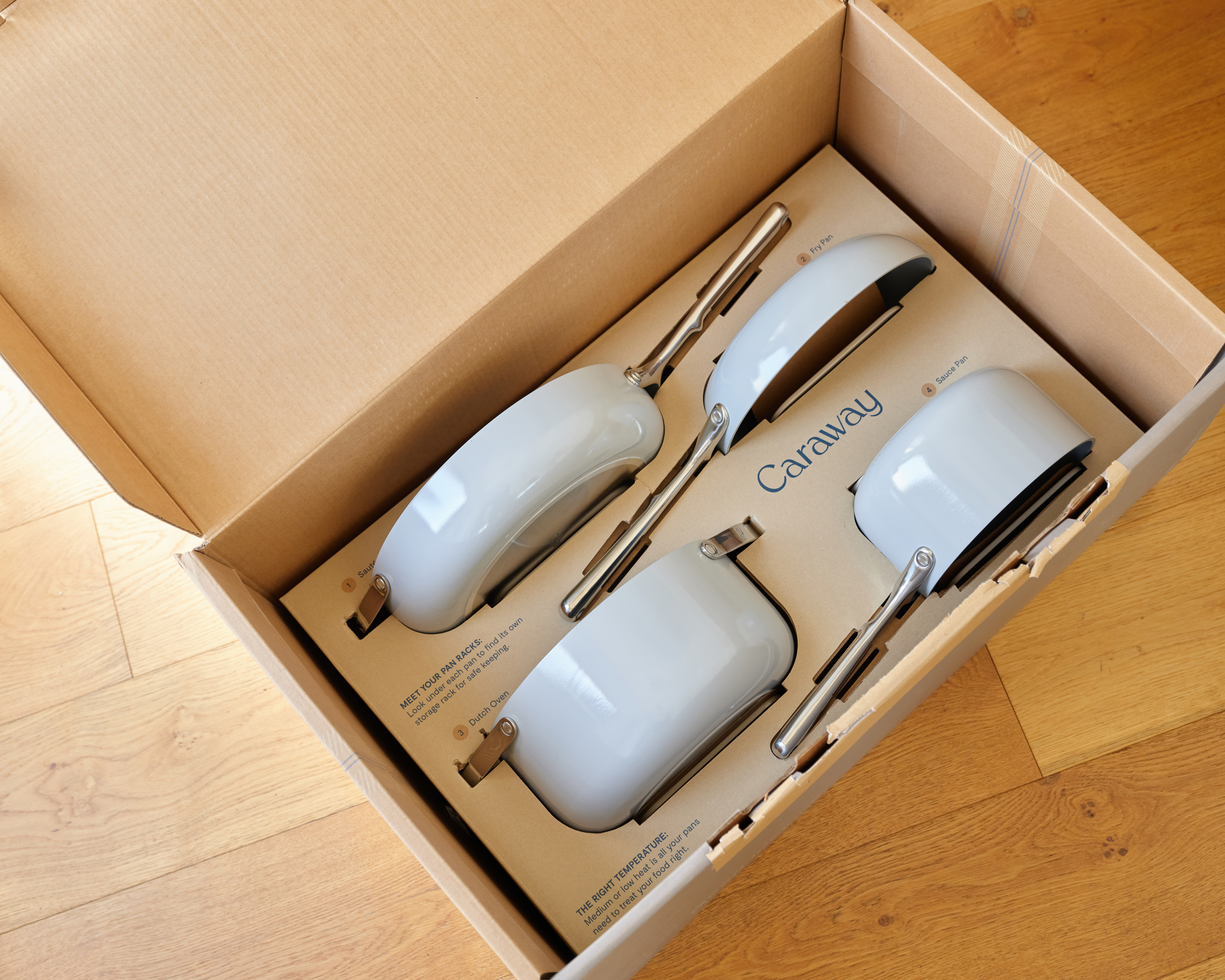 While some of your fringe friends may describe you as ambivalent, those who know you best would say that, actually, you're just adaptable. You're quite self-aware, and you know that your tastes are subject to change as the trends do just as well as you know that a solid, pragmatic gray will always be in style. Versatility and simplicity are not antonyms to you; they're more like counter-intuitive ingredients in a dish that, when stirred together, make for a surprisingly perfect meal.
Sage
You value comfiness and coziness and you want your home to be a haven, above all. When you learned the term "hygge," you felt as though everything in your life made sense. You're welcoming to all, and if you had it your way, your friends and family would gather under your roof for a pasta night or a brunch shakshuka once a week. A Sage set would complement the dark, leafy greens of the tons of plants that thrive under your care in the harbor of your home.
Perracotta
You have specific tastes and you're probably looked to as the keeper of aesthetic knowledge in your friend group. You can curate the perfect vibe no matter the occasion, whether it's a surprise birthday party, a wedding, or a quiet dinner party. You're hard to shop for, as everyone is secretly a little nervous to try and pin down your preferences. But when you find that perfect item, you'll spend whatever time, energy, and money it takes to get it.
Marigold
You're bold and passionate and likely the planner of the group. You like to let your look, your pop culture taste, and your home decor speak for you, and you've never met a graphic tee you didn't love. Ever since childhood, you were the kind of person who wanted everyone who might step foot inside your space to know exactly what you're about from minute one. When you host a movie night, you're definitely matching the snacks to the film choice, and you're certain everyone who comes will leave full, happy, and excited to be invited back.
Brick Red
You're a human golden retriever. Excited and excitable, you get easily enamored with what you want, and you have very few regrets about going after those goals. The ones you love know they can count on you for giving solid advice and a pep talk to boot, both of which are some of your favorite hobbies. Whether farmhouse chic, cabin-core, or a modern Nancy Myers kitchen is your ultimate goal, you know how to bring yourself into the space and make whatever you're into that year your very own.