Looking to upgrade your kitchen? Here's how choosing to focus on design as much as function can actually make your cooking skills shine.
Whether you're a type A, super decisive shopper or an often-ambivalent buyer, the idea of furnishing a new home can be overwhelming. The big stuff is easy: a sectional, a bar cart, the rug that ties it all together. It's the smaller things you don't realize you'll use every day that can trip you up, especially when you already have decision fatigue from the rest of it. It can be tempting to reach the end of your process and think, "How vastly can one knife vary from the next?" or "There's no way all these kinds of pots and pans are any different from one another." But that's where you'd be wrong.
The thing about kitchenware is that it's one of the only categories of home decor you really need. You can't feed yourself without forks, you can't serve without plates, and while it may seem as though one kind of pot or pan is as indistinguishable from another as a toothbrush holder or a ladle, there are some real advantages to making sure your cookware is as aesthetically pleasing as it is durable and functional. With seven colors to choose from and a commitment to clean design, a Caraway set can help make your buying decisions- and your dinnertime routines- a bit less stressful. If you're in the market for your very first set of premium cookware or if you're just looking for an upgrade, here are some surprising ways purchasing a Caraway set can actually make your at-home cooking even better.
1. The colorful set will make you more excited to get into the kitchen.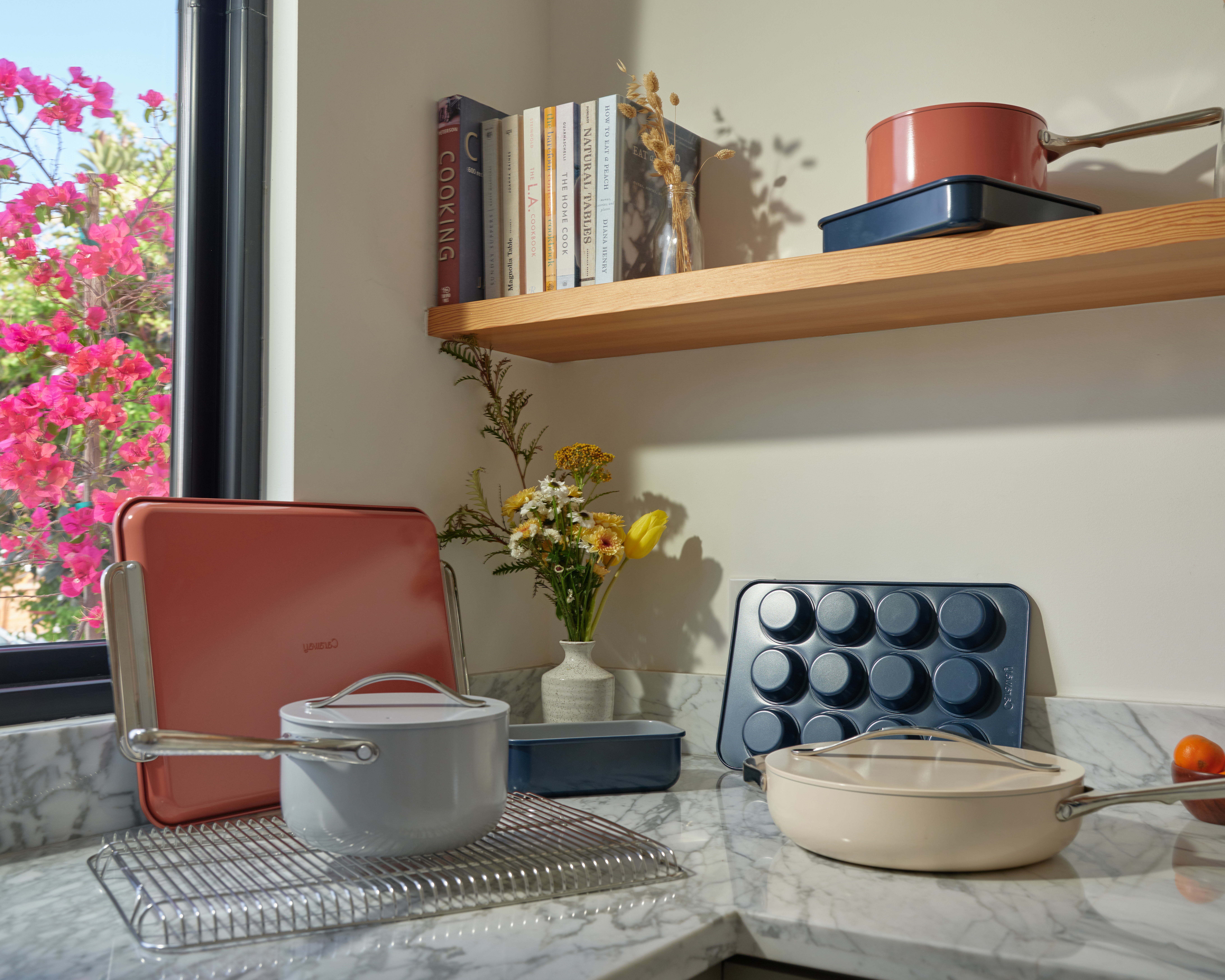 Having to feed yourself every day, three times a day, can get exhausting. If you find yourself dreading dinnertime, this looming anxiety may not just be about your skill set (or lack thereof). Once you have the proper tools, you may find that it was about something much more basic all along: you just didn't have the right equipment! Like finding that perfect pair of jeans that fits as comfortably as your go-to sweatpants, finally getting a shiny new pan in your fave color can make you realize that it was never about not liking the idea of jeans (or, in this case, cooking). It was that you hadn't found your right fit. The product that both looks good and feels good. The one that makes you actually want to get up, get dressed, and cook yourself something delicious.
2. New products will motivate you to try new recipes using all the different pots and pans.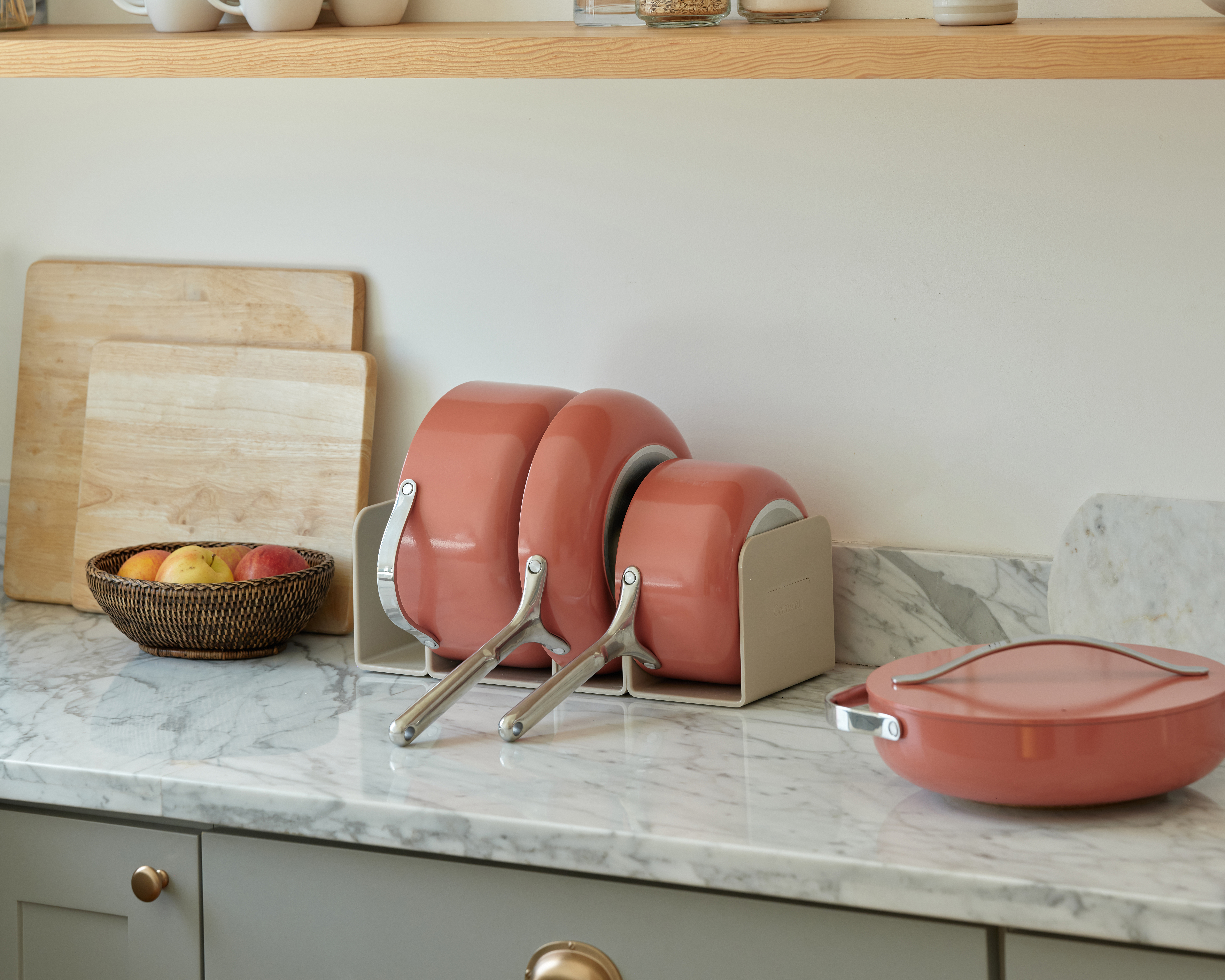 A full Caraway Cookware Set comes complete with a Fry Pan, a Sauce Pan, a Sauté Pan, and a Dutch Oven. Because each product has its own particular time to shine in the kitchen, you'll find yourself looking into recipes that can best utilize each of your new pots and pans. Soups and stews are perfect for the Dutch Oven, while stir-fries and one-pan pastas are a breeze in the Sauté pan. Knowing you've got a full arsenal of products in your corner will make trying new things less intimidating, and seeing your brand new set on your stovetop will make the meal even more Instagrammable.
3. You won't worry about cleanup because storage is so functional. One of the hardest parts of acquiring anything new is figuring out where you're going to put it. Each Caraway set comes with magnetic pan racks and a canvas lid holder, so your new pots will have a home within your home from the minute you unbox them! Dishes can be a drag and unloading the drying rack always feels like such a chore, you may find yourself wanting to scrap home-cooking all together. With the complete Caraway set, you can cook with abandon, knowing your post-dinner cleanup will be as easy as it was to clean your plate.
4. You'll be inspired to cook for guests and show off your skills. A huge allure of finally having your own space that you can curate however you want is finally being ready to invite guests over to see it. Whether you're organizing a cocktail hour, a dinner party, or your first Thanksgiving, the new addition of beautiful, aesthetic cookware that complements the decor of your home will gain you mega-points as a host with the most. Not only will the array of products make your multi-course dinner dreams a reality, you'll be able to serve with style as you set your carefully-curated colorful pans out for your guests to dig into. And if they get a little jealous in the process? That's just a plus.
5. You don't have to feel guilty for choosing style, because you're also choosing sustainability.
It can be difficult to navigate your own values as you get older and make more purchasing decisions. Do you go for something cheap but serviceable, or something a bit precier and long-lasting? Do you sacrifice design for quality, or do you get the prettiest looking product, despite its reputation? With a Caraway set, the only hard choice you'll have to make is deciding on a color. While the cookware sets are aesthetically pleasing, they're also high-quality, sturdy, storage-friendly, and perhaps most importantly, safe and sustainable. None of Caraway's products include potentially toxic materials like PFOA, PTFE, other PFAs, lead, cadmium, or toxic metals. Even the delivery is sustainable, with only recycled cardboard, low impact print dyes, and 100% biodegradable cork trivets used in the packaging. You won't find a single plastic bag in your Caraway order, but you will find a stylish new addition to your home that can make all the difference in the way you view your kitchen.